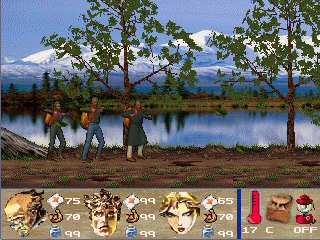 The game is a 2D adventure/platformer, at this moment it includes two stages, the goal of first stage is to reach the end of each level with alive characters, and find the cave entrance that lets you to go to the Center of the Earth; there are several dangers in the six levels of stage 1.
The goal in the second stage is to fight your way inside the volcano to reach the center of the Earth... but Darkness, Aracnes, lava, high falls and other type of dangers makes your way near to impossible.
The second Stage is a huge
labyrinth with +/- 600 screens, and you have 30 minutes of fuel in each character lamp, with the lamp off you cannot see far.
Not all is bad, you have three characters with different abilities, weapons
and tools to make the way a bit more easy; remember, there are not impossible situations, each situation is designed for one character. You need to do a good strategy to reach each stage goal.
Remember that this is a remake of a ZX Spectrum game, the playability is enhanced, but it conserves it original "spirit".
Stage 1 is totally new, stage 2 is an enlarger and modified version of the original one (the ZX Spectrum map is not much useful)
Author: Masteries, thanks to Coelophisys for second stage tileset and some sprites.
GCW ZERO Version: This is a beta release, technically is the same as GP2X F100 version. There are minor graphics glitches detected at stage 2, lava and waterfall sprites ¿? Due to Bennu GCW Zero port?
Also major changes where needed in the code to run these games on GCW Zero, for example "collision (type sprite)" doesn´t work properly, a workaround is "collision(sprite_identifier)" ¿?
Please, report any failures or bugs detected, if you can make a shot or photograph it will be fixed quickly!
Download links:
https://mega.co.nz/#!WkRVzaYS!KlKdO1HDajCmsWNLqPKXjyES-eP9ElODmwyEvIEzai0 (Stage 1 - English)
https://mega.co.nz/#!3poxxI7a!IdGeE8EiMOmb_v98psbD68H5j5dYzMMqP86yrsbXdRU (Stage 2 - English)
https://mega.co.nz/#!PxZnhbzA!O-Ypa5M51Jd29gEoIVPtAaJJ3QW1KJEbhoW_ZOjgRpk (Fase 1 - Español)
https://mega.co.nz/#!usgy0DAB!Lxmio-L1NWNGJPXhZADQw9Pbs0g_FgDtzyHXT5b1i7E (Fase 2 - Español)
A suivre ici : http://boards.dingoonity.org/gcw-releases/viaje-al-centro-de-la-tierra-journey-to-the-center-of-the-earth-gcw-zero-beta/msg98385/#msg98385